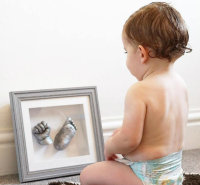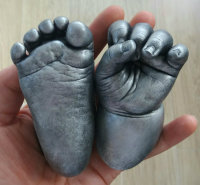 All my casts are framed in a bespoke frame of your choice with a choice of mount.
Framed cast prices include engraved name plaque.
Prices are based on a baby under 1 year old.
If casts are to be framed with a photo - the customer must supply an 8 x 6 or 7 x 5 photo.
Prices vary slightly with the choice of frame.
Review Oct 2017 Laura was incredibly accommodating when we arrived mob handed, to witness the casting of our son's hands and feet! Everything was perfect about the session (including the amazing shusher!) and the finished products are simply stunning. They are now pride of place in both ours and the grandparents homes.
Review Nov 2017Today I collected my sons 3D hand and foot cast and what can I say WOW. It is worth every penny and something I will treasure forever! Thank you again Laura.